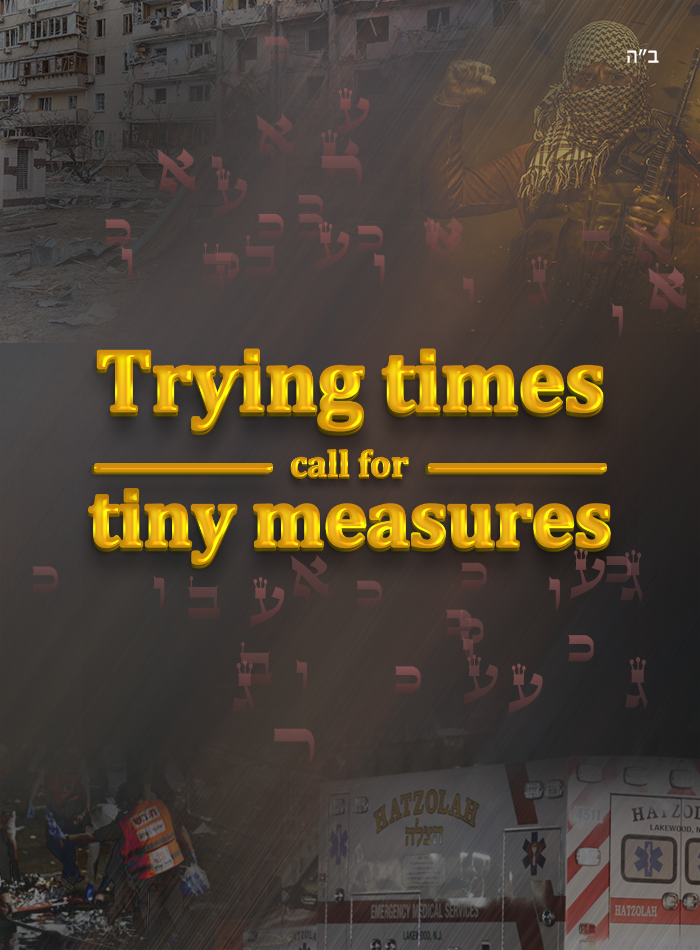 Add your tiny letter to the Sefer Torah Haklali and bring tremendous security and protection to a world filled with chaos.
***
Even if you already have a letter, you should get another one. In 5745 the Rebbe encouraged those who had already secured letters for themselves and their families to participate in the upcoming Sefer Torah as well, noting that it only adds to the protection that a Sefer Torah Klali brings both to the participants and the world.
Finishing the Ninth Unity Sefer Torah In Merit Jews of Ukraine
122,927
Out of 304,805 letters currently acquired in the Sefer Torah
Submit your Hebrew name, along with your mother's Hebrew name, to have a letter written in the Unity Sefer Torah just for you!
You decide the amount of payment!
דילן אברהם גדג׳ עמרני
אריאל ישראלי
אסתר לאה ישראלי
Shmuel Shene
Sima Gershenzon
Feige Granat
Nira Sharkaviak
Avraham Melamed
Cigal Gabay
Keren Yehudit Sharkoviak
Danielle Saffar
Brayndl Sara Gabay
Yosef Gabay
Yitzchak Gabay
Bayla Lashak
Yisroel Gabay
Yossef Yair Cigal
Shaul Haddad
עליזה דדון
שמחה צ'נינג
רוני צ'נינג
שמעון אלימלך
זיוה אלימלך
סיילביה אשכנזי
מאיר אשכנזי
יצחק אלימלך
בתשבע אלימלך
Gabriela Bitton
Chantal Darmon
Eden Farouz
Daniel Farouz
Tal Farouz
David Farouz
Yaacov farouz
Yeoudit Farouz
Gabriel Ayache
Daniel Mazal Ayache
Guedalia Mortchelewicz
Arielle mortchelewicz
Myriam Albelda
Martine Bendichevski
Avraham Persi Albelda
Leslie Sarah Lefebre
צחי יוםף
רחלי יוסף
שרה ואנונו
דניאל פחימה
אליעזר פחימה
מיכל שמחה פחימה
רבקה פחימה
מאיר ציון פחימה
חיים פחימה
ברכה פחימה
דוד פחימה
עובדיה פחימה
אליהו פחימה
דינה יפה פחימה
סחיקה גולה אלימלך
עליזה איזה בן-דוד
מרום קוצר
ישראל אביכזר
מנשה אביכזר
אפרים אביכזר
יוסף אביכזר
אליס עליה ועקנין
דוד קרמיזי
יהונתן קרמיזי
דניאל קרמיזי
חב"ד דוברי צרפתית בית שמש
קבוצה י"א ישיבת קיץ ה'תשפ"ב
A Jew sees the Torah as the source of light; the stability of the world. The Lubavitcher Rebbe, who generally refrained from engaging in segulot (protective rituals), nevertheless recommended acquiring letters in the Unity Sefer Torah as a protective measure during times of great hardship.